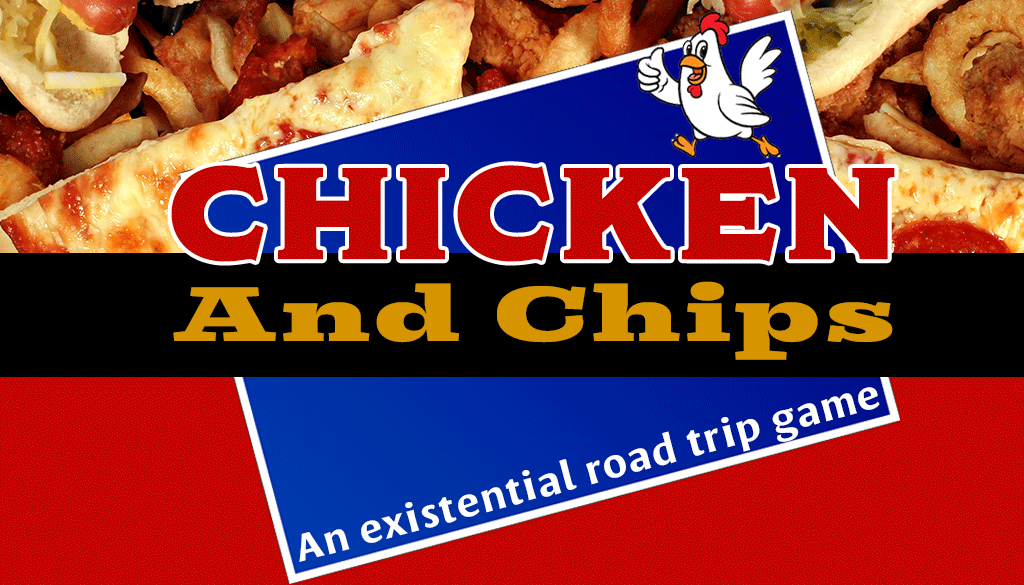 Chicken & Chips
To purchase a print copy please email chris [at] loottheroom [dot] uk.
An existential road trip game about coming home from a night out and having a real craving for chicken and a kebab.
There is no more accurate simulation of the Great British Night Out, and therefore of modern British culture itself.
A must play for everyone who has ever been sick in the back of a taxi and tried to pay off the driver with that half bottle of vodka you don't even remember buying.
- Cat Evans (Altered Carbon RPG, Eat The Rich, Uncaged)
#
You've just been out out, on what promised to be an epic night.

It wasn't.
Now you're in the taxi, grumpy and absolutely leathered and - possibly - hungry. Some of you want to go straight home. Some of you will literally die if you don't get a kebab right fucking now.
All the driver wants is for you to make your fucking minds up, not puke all over their cab, and for you to pay them at the end of the ride.
How will the night end? Who even knows.
#
Become a Patron to get games early and to receive exclusive signed and numbered print versions!
Purchase
In order to download this hangover you must purchase it at or above the minimum price of $5 USD. You will get access to the following files:
ChickenChips-Spread.pdf
695 kB